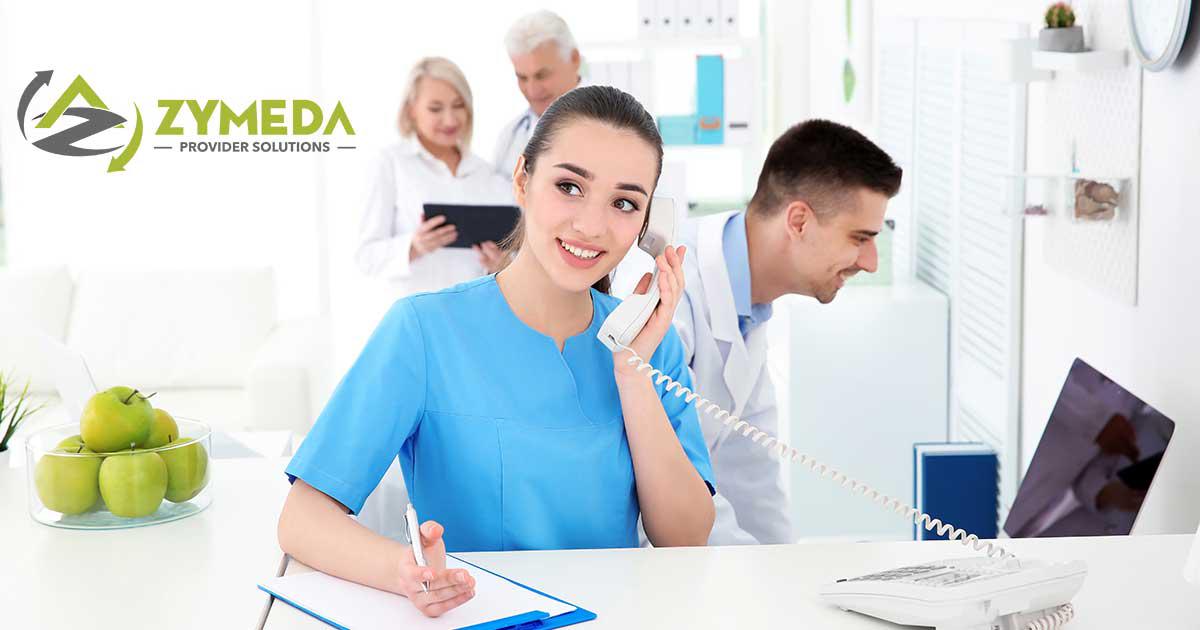 If the proliferation of Yelp, Google, and other online ratings website reviews about a person's experience with a doctor's office is any indication, customer service is a big deal when it comes to maintaining the health and vitality of your practice. While this fact may not be surprising, we find that many physicians don't realize the online reviews and ratings that they uncover about their practice may have nothing to do with the actual medical care provided. From the person who answers the phone at your front desk to the one who handles follow-up billing or collections phone calls, their behavior distills down to one fact – an overall impression of how the patient or prospective patient sees YOU.
So what can you do to ensure that everyone in your practice is providing the same high level of customer service to the public? Here are some tips to help your staff navigate a few of the most crucial customer service areas for physician practices:
Phone Etiquette: This customer service skill is likely the most important because it can mean the difference between a caller becoming a patient – or in the worst case, becoming a disgruntled customer who takes to social media to vent their frustrations about your staff's customer service standards. The difference between the former and the latter really comes down to kindness, respect and yes, patience. Is yours a practice whose employees answer the phone with "doctor's office?" If so, it's a habit that should be immediately discarded because it starts the conversation off on a rushed, impersonal and robotic note. Rather, ask your team to begin answering the phone with an unhurried: "Dr. NAME's office, how may I help you?" instead. It's a relatively small adjustment in language and approach that can make a huge impact.
Communication Skills: The staff member in today's private practice office likely wears a number of hats to help keep operations running smoothly. While we appreciate this fact, it's important to help your team understand that EVERYONE is in charge of customer service. If a team member sees that a patient or caregiver is confused, frustrated or angry – empower them to reach out with "can I help you with something," or "have you been helped yet?" Even if they don't have an immediate answer, letting the patient know they will get in touch with someone who does and will get back to them with a response is a breath of fresh air for many patients who simply "feel like a number" in some practice settings. Taking that extra measure of care to acknowledge that your staff really sees and respects a patient's feelings is a huge differentiator in today's rushed and frenetic healthcare marketplace.
Collecting Payments: We realize this one is complicated, to say the least. But we also know it is among the biggest patient complaints and guess where they take these frustrations – to online review platforms about your practice. Do you have someone in-house who is in charge of follow-up on payment collections? Has this individual been trained in how to delicately navigate these conversations? Or, do you outsource this process to a third-party and do you know how they approach the conversation with your patients? Either way, it is important for physician practice owners to be a "fly on the wall" in at least some of these conversations so you can know how your patients are approached with these delicate financial conversations. Better yet, helping set the expectation for patients up-front on what their out-of-pocket expenditures may be for certain procedures can save you painful collection headaches down the road. Contact us if you could use some help establishing collection systems that get you paid while keeping customer service top-of-mind in the process.
While phone etiquette, communication skills and collecting payments are really the tip of the customer service iceberg, even these small tweaks can make a big difference in the overall perception of you and your practice.
Responding to Reviews: Make it a habit to respond to all reviews, both positive and negative. Taking a few minutes to thank a patient for their kind review shows you care, and suggests you are actively involved online. Responding to negative reviews are more difficult as there is a delicate balance in mitigating the review and creating a "war of words". Negative reviews hurt, but don't take them personally. It's natural to get upset, but when you've lost your cool, or if you feel like retaliating, it's wise to step away from the keyboard. Keep responses to negative reviews simple:
Dear [Reviewer], thank you for sharing your feedback. We're sorry your experience didn't meet your expectations.
Please feel free reach out to us with any further comments, concerns, or suggestions, and will will be happy to assist.
Zymeda: Providing the Service YOU Deserve.
P.S. If your online reputation needs some polish, we can help. Ask us about our online reputation and review management services to help you cast a wider net of positive information online.