Zymeda Provider Solutions
California & Texas Medical Practice Consultants
If your medical practice is struggling with operational efficiencies, growth or profitability, ZYMEDA IS YOUR SOLUTION!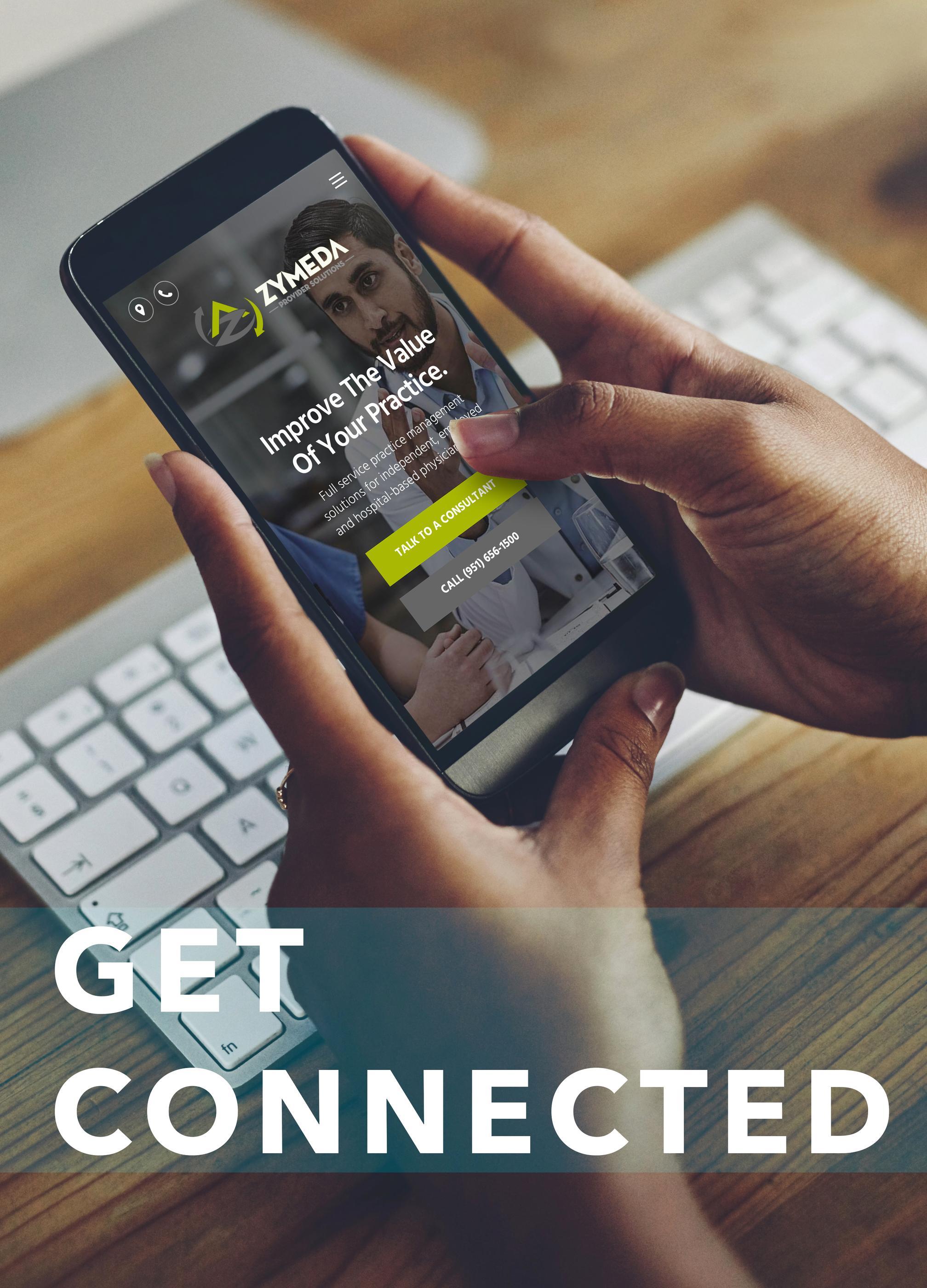 Becoming Zymeda        
Zymeda Provider Solutions formed in 2012 to help physicians understand the bigger picture of healthcare administration. Offering a comprehensive portfolio of practice management and strategic consulting services, Zymeda is committed to positioning independent, employed and hospital-based physician practices in California and Texas for long-term success. We conduct business honestly and ethically, driven by the values of trust, fairness, respect, and accountability. 
Zymeda is particularly focused on providing physician practices with the consulting services, process improvement, operational benefits and revenue cycle capabilities enjoyed by large medical groups. As a growing company based in Southern California, our firm offers clients a unique level of service complimented by access to our leadership team and industry experts. Our client partners include a broad range of practices varying in size and specialty. 
Practice Management Expertise
Whether you are an independent practice looking to maximize your autonomous position or an employed or hospital-based group seeking to capitalize on opportunities with your hospital partner, our practice management and consulting services support your needs. We engage physicians in the decision-making process and subsequent execution of strategic and operational initiatives. Zymeda's participation in practice management functions within your practice can be as limited or as expansive as you like. What remains consistent is our unwavering commitment to achieving goals using sound logic and data-driven analysis, in support of the long-term vision of the practice.
Revenue Cycle Done Right
Our roots as a billing company drive much of our client services today. From contracting and claim coding to capitation and collections, Zymeda provides high power revenue cycle services that any practice can afford - especially considering gains in improved cash flow, profitability and staff and patient satisfaction. Our collective experience handling claims on the health plan and IPA payer side makes us uniquely qualified to ensure a smooth transition and improved efficiencies for your practice.
As confident as we are in our technical capabilities, customer service is our bread and butter. We strive to ensure rapid follow-up to operational issues. A client's contracting and billing delays become our problem to solve and reflect directly on our performance. We are aggressive in making sure our clients get paid in a timely and accurately manner while strictly adhering to coding compliance and reimbursement guidelines.
Whether your practice is wrestling with a small or large issue, we are the solution you have been seeking. Contact us to learn more about the Zymeda difference! Learn More